Data on Gender Norms: Can We Find and Use What is Missing?
Authored by: Rebecka Lundgren, Meredith Pierce, Anita Raj, and Namratha Rao
This blog originally appeared on ALiGN
March 23, 2020
Gender norms – the social norms that define and restrict behaviours and opportunities for individuals based on their biological sex – are increasingly recognized as key drivers maintaining gender inequalities across nations. In response, global development programmes and initiatives have increased their focus on gender norms as targets of change. In March 2020, the United Nations Development Programme released, for the first time, the Gender Social Norms Index (GSNI) to highlight these norms at the national level. This index sets a baseline for change in these norms and demonstrates that gender norms are associated with gender inequalities at the national level. The GSNI report documents that half of people globally believe men make better political leaders than women, and 40% believe men make better business executives than women.
The most striking and disturbing finding of this new work is that these restrictive gender norms have, in fact, increased rather than decreased across the globe. (See graphs below, taken from GSNI Report). These findings contrast sharply with continued improvements on key gender equality indicators (e.g. girls' education, women's political participation) in this same period. This indicates that, even while we are seeing face-value improvements in women and girls' access to socio-economic opportunities, restrictive gender norms are pervasive.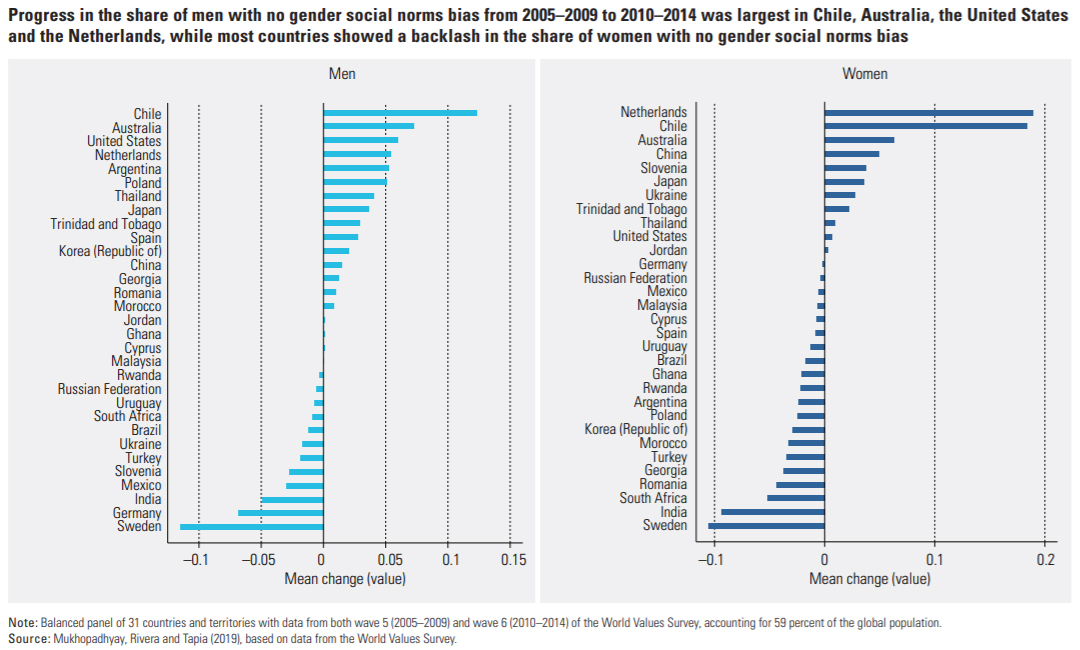 Click to view full-size. Figure taken from UDNP's 2020 Human Development Perspectives Tackling Social Norms: A game changer for gender inequalities report.
How does GSNI measure norms?
This new index focused on gender norms is vitally important to track progress on Sustainable Development Goal 5: Achieving Gender Equality and Empowerment of All Women and Girls. Unfortunately, the index is also limited by relying on component indicators pulled from large-scale surveys that are not norms, but are individual attitudes and beliefs. This is not a flaw of the index per se, but of the indicators we have available as relates to gender norms. Social norms should be measured for a given group as:
social expectations from those important to them (i.e., Injunctive norms- "People who matter to me expect me to…") or
social observations of what others around them do (i.e., Descriptive norms- "Others in my community mostly do this…").
While attitudes, beliefs and norms are all related to gender equity, they are distinct constructs and should be measured as such. Applied to gender norms, this might change the phrasing of a  statement designed to measure attitudes, such as changing "Boys are better at science than girls" (an attitude) into:
"People who matter to me think that boys should be scientists, while girls should be teachers." (an injunctive norm), or
"In my school, boys major in science, not girls." (a descriptive norm).
Norms can also be measured by assessing whether social rewards or punishments are received for engagement in the given behaviour (i.e., social sanctions). For example, girls pursuing engineering in a context where assumptions are that only boys go into engineering may face harassment or discrimination from peers or even professors in that context.
Why are improvements in measurement needed?
Why does this distinction between attitudes and norms matter, conceptually and for measurement? Because growing evidence indicates that social norms, as well as individual attitudes, influence human behaviour. To affect gender inequalities at scale, shifting gender norms (rather than individual attitudes) may have more of a far reaching and sustained effect.  Hence, we must measure these important targets of changes at national levels, and we must have such quantitative measures available for inclusion in global indices like GSNI.
The first step toward having these measures at scale is to have evidence-based social norms measures available for inclusion in our large-scale national surveys. To that end, we find the field sadly lacking. We recently analyzed social norms measures in just one area of gender equality, women's economic empowerment, using measures from EMERGE, a one stop shop platform for open access (i.e. freely available) survey measures on gender equality and empowerment. (See the EMERGE Website to learn more, find measures for your work, and submit your measures.)
EMERGE has a compilation of 300+ survey measures on gender equality and empowerment for researchers and implementers, with measures crossing the areas of health, education, economics, politics, and other social spheres. Upon examining the available social norms measures (those showing face validity of assessing social norms and those defined by the authors of the measures as social norms), we found 26 measures purported to assess norms with respect to women's economic empowerment. However, further examination of the measures by social norms experts on our team indicated that even these measures largely relied on attitudes, and that no measures focused on injunctive norms.
Where do we go from here as a field and in partnership?
Increase use of gender norms measures at scale. EMERGE is working to build the science and enhance the usage of evidence-based measures at scale on both norms and agency in economic empowerment. We have had the opportunity to work with the Karolinska Institutet on inclusion of gender norms questions in the next iteration of the World Values Survey. Because their measures serve as the basis for much of the GSNI, their expansion of surveys to include norms measures will offer significant improvements to this index.
Increase development of social norms measures for use at scale. Researchers and implementers must prioritize rigorous development and testing of gender norms measures, with a conceptual foundation consistent with social norms science. Too often, people are creating measures without this conceptual and theoretical grounding, and without rigorous measurement science (e.g. formative research and psychometric). For the latter, we recommend guidance from EMERGE on how to develop and test measures using best evidence measurement science methodologies. This guidance also offers insight into how to adapt measures to new contexts, an important consideration to ensure our measures are able to fit and work within diverse populations.
Collectively advocate for the recognition of social norms as conceptually distinct from attitudes/beliefs and requiring specific measures that capture injunctive and descriptive norms and the social sanctions that reinforce them. Simultaneously, advocate among those of us working in this space and using these measures in the field to a) use rigorous methodologies to increase recognition of the reliability and validity of these measures and b) disseminate the measures with the information about their conceptual underpinnings and documentation of their methodological strength.
Through these efforts, we hope to see expansion of gender norms measures, improved application of measurement science in development of these measures, and greater representation of actual gender norms measures in our national level indicators and global indices. Without strong quantitative measures, it will continue to be difficult to identify the norms that matter to achieving the SDGs and to assess the effectiveness of norms-shifting interventions. We at EMERGE encourage researchers working in this area to join us, and take a more active role in developing and testing social-norms measures for global gender equality.
About the authors
(All co-authors contributed equally and we have listed them out alphabetically)
Rebecka Lundgren, MPH, PhD – is a professor at the Center on Gender Equity and Health (GEH) at the University of California San Diego, leads the global secretariat of the Social Norms Learning Collaborative and supports its regional communities in Nigeria and East Africa.  Her work seeks to advance social norms theory, measurement and practice, with a focus on developing practical guidance for implementing and scaling norms-shifting interventions to promote gender equity and prevent gender-based violence.
Meredith Pierce, MPH – is a Research Project Manager supporting the research portfolios of Dr. Anita Raj and Dr. Rebecka Lundgren at University of California San Diego's Center of Gender Equity and Health (GEH). Meredith's most recent areas of work include focus on family planning, youth, research utilization, and HIV/AIDS. Prior to GEH, Meredith worked at Population Reference Bureau in International Programs and at USAID in the Office of HIV/AIDS and the Office of Population and Reproductive Health. Meredith holds a Master of Public Health from George Washington University.
Anita Raj, PhD – is a Tata Chancellor Professor of Society and Health and the Director of the Center on Gender Equity and Health (GEH) at the University of California San Diego. Her research, including both epidemiologic and intervention studies, focuses on sexual and reproductive health, maternal and child health, and gender data and measurement. She is also Principal Investigator on the EMERGE study referenced in this blog. She has served as an advisor to UNICEF, WHO, and the Bill and Melinda Gates Foundation. She recently contributed to the Lancet series on Gender Equality and Health as an author and steering committee member; she co-led analyses of gender inequalities in health systems and the role of gender norms on health.
Namratha Rao, MSPH – is a Research Program Manager/Consultant at the University of California San Diego's Center of Gender Equity and Health, supporting the Center's research portfolio in India. She has experience working in the HIV/AIDS, family planning, and WASH sectors and is extremely interested in health behavior change approaches to intervention and the intersections of environment, gender and health. Namratha received her Masters of Science in Public Health from Johns Hopkins University, MD.